We have broad-based capabilities for peptide synthesis: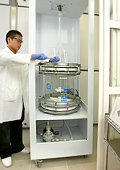 Catalogue products: we have a range of peptides from β-Amyloids to LHRH, to Neuropeptides, to Vasopressins, with purity greater than 98%, surpassing industry standards. All catalogue peptides are updated regularly and include a certificate of analysis, complete with full analytical data, solubility and other useful information.
Building Blocks: We offer a comprehensive selection of Boc/Fmoc amino acid derivatives and resins for your custom peptide synthesis. We not only provide product data sheets but also quality assurance through our extensive experience with these reagents. For combinatorial chemistry, we provide the best selection of building blocks and solid resin support.
Custom Synthesis: small-scale non-GMP, cGMP for clinical trials through to Commercialisation.
Small/medium scale non-GMP custom peptides for your drug discovery process to pre-clinical development for pharmacology.
cGMP manufacture of Active Pharmaceutical Ingredient (API) through development to Commercial supply for proprietary and generic products.
We also offer peptide-protein conjugation:
Quantities to Kilograms
Multiple Disulfide Bridges
Complex Peptides/Peptidomimetics
Special amino acids and their derivatives
Phosphorylated/Biotinylated Structures
Peptide labelling AMC, aldehyde, CMK, AFC
Purities from crude to 98%
Chromogenic/Fluorogenic Substrates
Solid Phase/Solution/Segment Coupling Technologies
Process Development
FAM, FITC, and TAMRA labelling
PEGylation